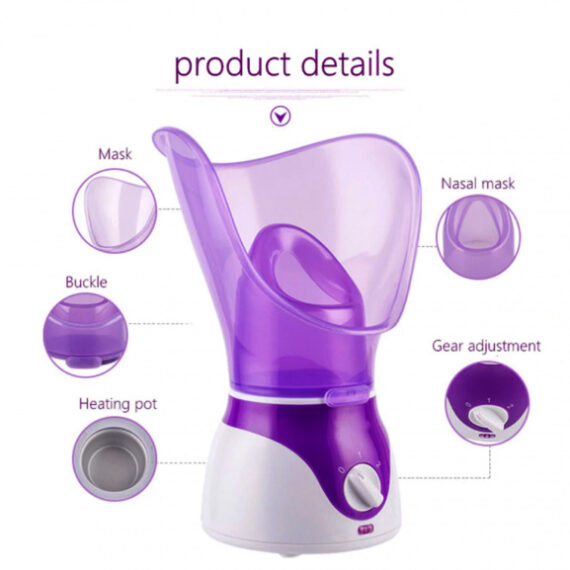 NTFS Facial Steamer Face Steam inhaler machine
රු3,250.00
Skin moisturizer, full face steamer for intensive skincare, and inhalation+ T-zone attachment for the nose and mouth inhalation to clears your blocked nose, humidifier function.
Opens unclogs pores to removes dirt, oil makeup. Melts away dead skin cells, makes toner, cream and other nutrients absorbable
Facial sauna, use as part of regular skincare regime for visible results, essential oil vaporizer: add your favorite essential or aromatherapy oils.
Use as direct Skin Indulgence, treatment, or Simply let steamer run as Interior humidifier in any weather
NTFS Face steamer with Steam Inhaler offers all the benefits of a spa steam treatment at home. Featuring a full face mask, the facial sauna uses steam to open up the pores, helping to remove impurities and deeply cleanse the skin, adjustable steam level gives you complete control.
Out of stock
Description
Pore cleaning, Deep Hydration
Control: 0/1/2 Settings
Improving face blood circulation
Use for the warm steam facial sauna.
For pore cleansing, deep hydration, and purification of the face.
Dredge pores, Removes grease, and deeply cleanse the skin.
Promotes the face blood circulation, Rejuvenates.
Replenishes water, maintains the water balance of the skin, increases skin elasticity.
Provides relief from cold and sinus problems.
Can use with incense or essential oils to enjoy an aromatherapy sauna at home.
Helps to eliminate fatigue, eliminate the pouch and black rim of the eye.

Steam Time 15-20 minutes.
On / off switch.
Three-Gear Control.
Energy-saving and environmentally friendly saves more than 40% energy.
Precise temperature control