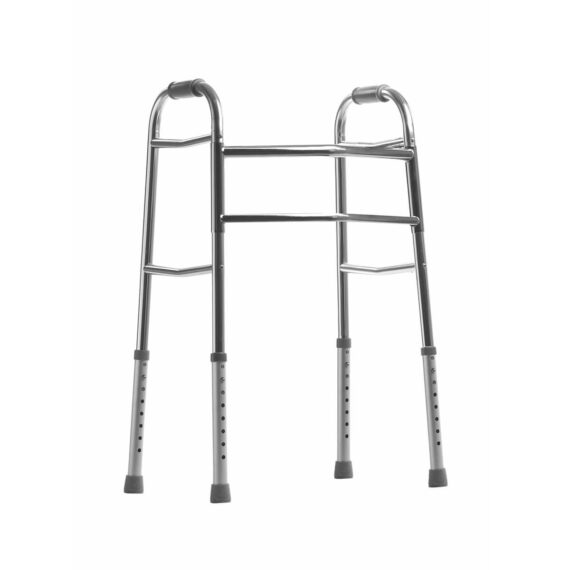 Moving Walker – Without wheels
The Life Omic FoldAway walker offers convenience and ease of use in this newly featured onyx line walker.
In stock
Description
A walker is a mobility device that consists of a metal frame with a front and sides. The person who is using the walker stands inside of this three-sided frame and uses the walker to help support his or her weight while walking. A walker supports roughly 50 percent of a person's body weight, so it is useful for people with limited strength and for those who are unsteady on their feet. However, a person must be strong enough to be able to support the other half of their bodyweight on their own to use a walker safely. Most often, walkers are recommended for people with arthritis, weakness of the legs or hips, balance problems and various types of gait or stepping problems. You or your loved one should only use a walker if a physician has recommended one over other types of mobility aids.
The walker is easy to assemble and allows the walker to fold to half its size for convenient storage and transport.
Features Include:
Compact Design – folds down for easy storage and transport
Lightweight – aluminum frame design allows for ease of lifting. Weighs only 6 lbs (2.75KG)
Height Adjustable – simple push button adjusts height
Weight capacity – 300 lbs.